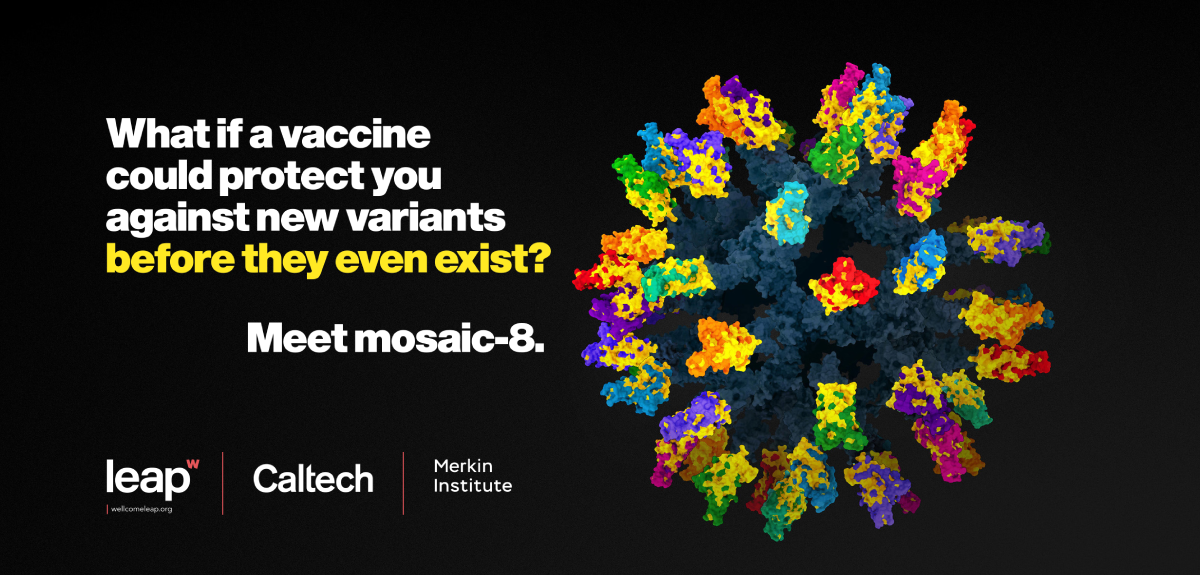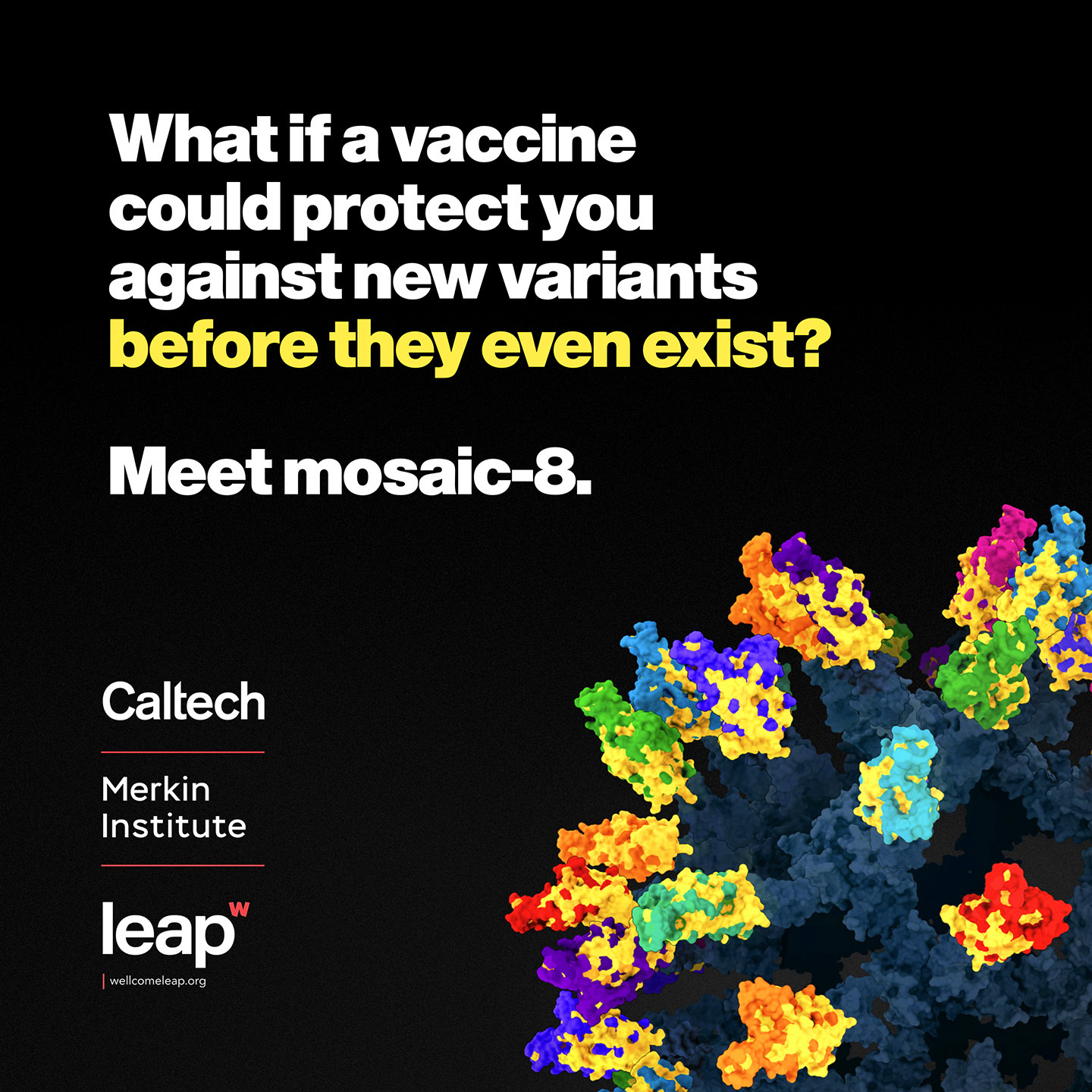 Wellcome Leap announces breakthrough in funded project at Caltech: points to new all-in-one vaccine for SARS-like betacoronaviruses – Phase I clinical trials initiated by CEPI.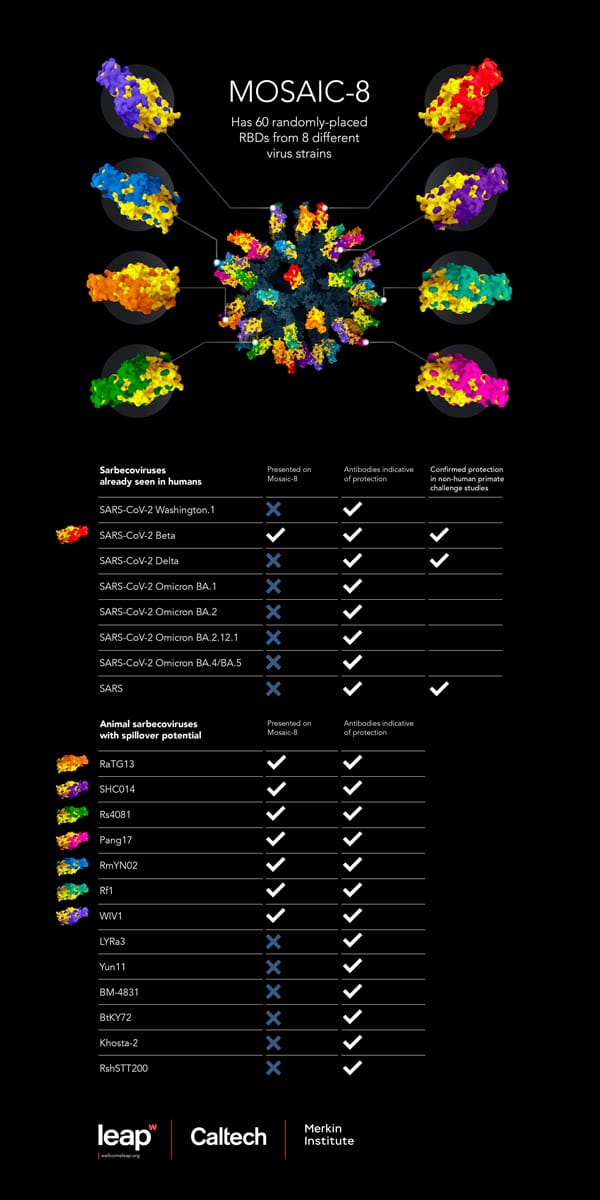 Image courtesy of Wellcome Leap, Caltech, and Merkin Institute. 
© 2022. All rights reserved.
Los Angeles – July 5, 2022: Wellcome Leap, a U.S. based non-profit organization founded by the Wellcome Trust to accelerate and increase the number of breakthroughs in global health, today announced a significant advance by researchers in the Bjorkman lab at Caltech. The study demonstrates broad immune responses in non-human primates against a spectrum of SARS-like betacoronaviruses when immunized with a new nanoparticle-based vaccine, named mosaic-8.
The key to this advance is the specific construct of the vaccine, which aims to elicit an immune response to the parts of the viral spike that do not change between variants or between animal SARS-like betacoronaviruses strains – a so-called 'conserved' part of the spike.
This advance suggests that it may be possible to be vaccinated against animal viruses that could spill over to infect humans to cause another pandemic and also against SARS-CoV-2 variants before they even exist. The core nanoparticle technology was initially developed by collaborators at the University of Oxford and has been further optimized to achieve broad protection in the Bjorkman lab in this study.
The current work builds on earlier Bjorkman lab experiments, supported by Caltech's Merkin Institute for Translational Research, that demonstrated broad immune responses in mice against SARS-like betacoronaviruses (Cohen et al, 2021). The new study, sponsored by Wellcome Leap, established protection from a SARS-CoV-2 Delta variant challenge in non-human primates (representing protection for a 'mismatched' variant since the SARS-CoV-2 Beta variant was presented in the mosaic-8 construct, but the Delta variant was not). Importantly, as published today in
Science
, the vaccine also showed protection from SARS-CoV, a different strain of betacoronavirus, which was also not presented in the mosaic-8 nanoparticle, thereby demonstrating the potential to provide protection against an as-yet-unknown SARS-like betacoronavirus that could spill over into humans. Wellcome Leap's agile funding model provided the pivotal support needed to achieve these milestones and, importantly, to maintain the scientific momentum catalyzed by Merkin's funding of the Bjorkman lab.
"We couldn't have done this research this quickly without Wellcome Leap. Period," Dr. Pamela Bjorkman said. "Leap approached us at a critical juncture of our research and provided us with the funding to allow us to expand into testing in non-human primates. They also helped us clear obstacles and build effective collaborations. I estimate they reduced our timeline from two years to six months, which in lab timelines is unheard of. I am incredibly proud of the work the team did on this and we are looking forward to phase I clinical trials to evaluate our vaccine candidate, which will be funded by CEPI."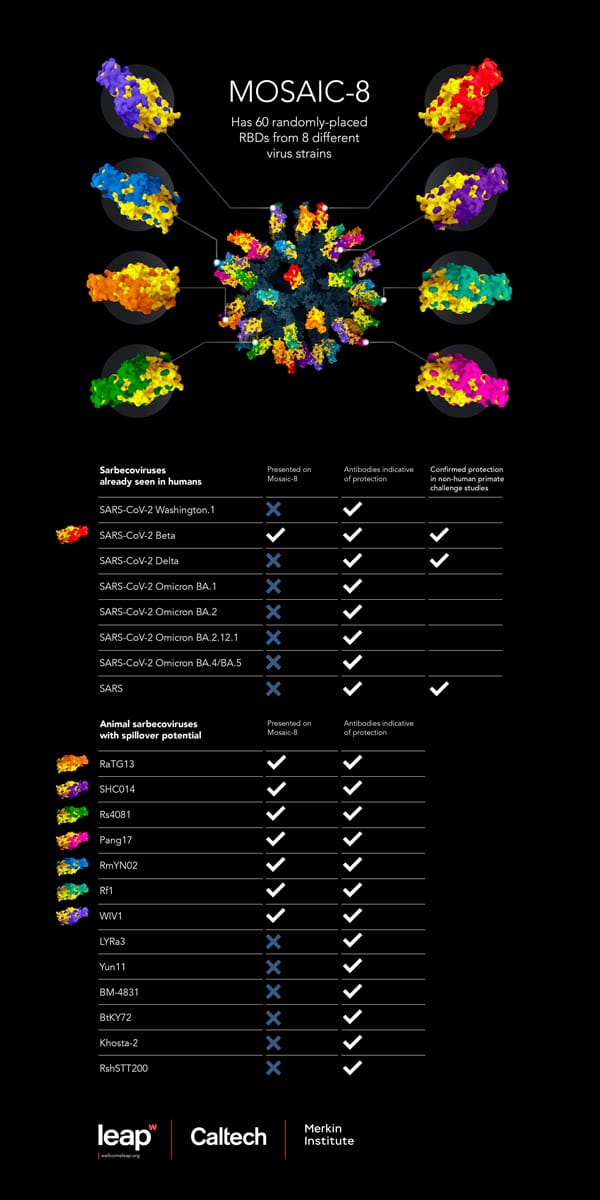 Image courtesy of Wellcome Leap, Caltech, and Merkin Institute. 
© 2022. All rights reserved.
With animals showing little to no detectable infection when exposed to either 'matched' or 'unmatched' SARS-like strains, this nanoparticle development has the potential to mitigate viral infection caused by known and future variants of the class of virus that caused the current global pandemic, but also to mitigate potential pandemics caused by future viral spill overs within the SARS-like betacoronavirus family.
"This outcome demonstrates the priority we put on stacking the odds in favor of a breakthrough – we believe that we can accelerate and increase the number of breakthroughs if we work with speed, agility, and global collaboration," said Dr. Regina E. Dugan, CEO of Wellcome Leap. "By matching the high potential of the research with a high sense of urgency, we may now be in a better position on pandemic prevention."
As a result of these findings, the Bjorkman lab has formed a consortium led by UK deep tech innovation organization CPI and secured up to $30 million from the Coalition for Epidemic Preparedness Innovations (CEPI) for Phase 1 clinical trials of the mosaic-8 vaccine. The overall acceleration has the potential to condense the path to full-scale production by three to four years.
"We have talked about the need for diversity in vaccine development since the very beginning of the pandemic," said Dr. Richard J. Hatchett, CEO of CEPI. "The breakthrough exhibited in the Bjorkman lab study demonstrates huge potential for a strategy that pursues a new vaccine platform altogether, potentially overcoming hurdles created by new variants. I am delighted to announce that CEPI will be supporting this novel approach to pandemic prevention in Phase I clinical trials.
The accelerated speed the study achieved after receiving Wellcome Leap funding facilitated our relationship with them today. The non-human primate data is extremely encouraging and we're excited to support the next phase of trials."
This announcement comes two months after Wellcome Leap announced an additional $335M in new funding, with the organization now having over half a billion dollars at work. All Wellcome Leap programs aim to deliver breakthroughs in human health over 5 – 10 years and demonstrate seemingly impossible results on seemingly impossible timelines. Complementary to the five programs in action, the Wellcome Leap Program Seedling budget is used to support projects that demonstrate high breakthrough potential or could become programs in and of themselves. 
Wellcome Leap builds and executes bold, unconventional programs, funded at scale. Programs that aim to deliver breakthroughs in human health over 5 – 10 years. Founded by the Wellcome Trust in 2020 as a US nonprofit with initial funding of $300 million, Leap programs target complex human health challenges with the goal of achieving breakthrough scientific and technological solutions. Operating at the intersection of life sciences and engineering, Leap programs require best-in-class, multi-disciplinary, global teams assembled from universities, companies, and nonprofits working together to solve problems that they cannot solve alone.
With an additional $335 million in funding from the Wellcome Trust, the organization now has over half a billion dollars at work.
About the Merkin Institute
Caltech's Merkin Institute for Translational Research provided some of the initial funding to develop the mosaic-8 nanoparticles.
CEPI is an innovative partnership between public, private, philanthropic, and civil organisations, launched at Davos in 2017, to develop vaccines against future epidemics. Prior to COVID-19, CEPI's work focused on developing vaccines against Ebola virus, Lassa virus, Middle East Respiratory Syndrome coronavirus, Nipah virus, Rift Valley Fever virus and Chikungunya virus – it has over 20 vaccine candidates against these pathogens in development. CEPI has also invested in new platform technologies for rapid vaccine development against unknown pathogens (Disease X).
During the current pandemic, CEPI initiated multiple programmes to develop vaccines against SARS-CoV-2 and its variants with a focus on speed, scale and access. These programmes leverage the rapid response platforms developed by CEPI's partners prior to the emergence of COVID-19 as well as new collaborations. The aim is to advance clinical development of a diverse portfolio of safe and effective COVID-19 candidates and to enable fair allocation to these vaccines worldwide through COVAX.
CEPI's 5-year plan lays out a $3.5 billion roadmap to compress vaccine development timelines to 100 days, develop a universal vaccine against COVID-19 and other Betacoronaviruses, and create a "library" of vaccine candidates for use against known and unknown pathogens. The plan is available at
https://endpandemics.cepi.net
.
CPI takes great ideas and inventions and makes them a reality. Born in the North East of England in 2004, CPI is an independent deep tech innovation organisation and a founding member of the High Value Manufacturing Catapult.
CPI's team of intelligent people use advances in science and technology to solve the biggest global challenges in healthcare and sustainability. Through incredible people and innovation infrastructure, CPI collaborates with partners in industry, academia, government, and the investment community to accelerate the development and commercialisation of innovative products.
CPI's work ranges from health technologies, advanced drug delivery systems, and medicines manufacturing innovations for multiple modalities including small molecules, biologics, and nucleic acids; to developing sustainable materials for energy storage and packaging, as well as novel food, feed, and nutraceuticals, that are all underpinned by digital technology. CPI turns the entrepreneurial spirit and radical thinking of its people and partners into incredible impact that makes our world a better place.